At 4:28 a.m. on August 29, 2022, after two months of collaborative efforts, the world's largest special-shaped hydrogenation cylinder forging was successfully manufactured in China CFHI Group. The forging has a diameter of 6.76 meters, creating three records of the largest single weight, diameter and wall thickness of the world's special-shaped hydrogenation cylinder forging. It highlights the continuous technological innovation ability of China CFHI and also marks that Sinopec's extreme manufacturing capacity of equipment once again leads the world.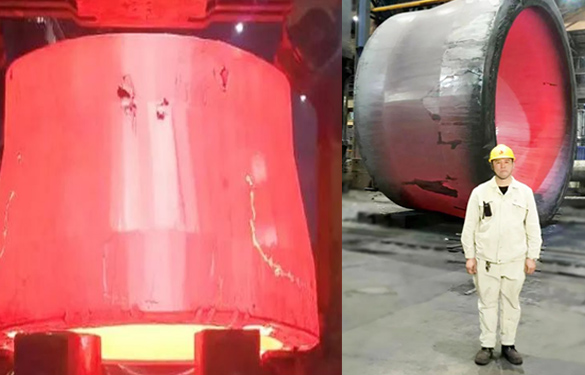 With the gradual increase of the monomer capacity of petrochemical vessel equipment, the lightweight design of reactor has become the mainstream trend. The super large cone forging successfully manufactured this time is the key development equipment of Sinopec and is also the first application of this design in the manufacturing of forged and welded vessels in the petrochemical industry. To adopt this technical route, it is necessary to break through the integrated manufacturing of super large size and super heavy cone-shaped cylinder. In the face of broad market prospects, the Tianjin R & D center of China First Heavy Industry Corporation has carefully set up a scientific research team, relying on the manufacturing experience of nuclear power cone-shaped cylinder, to carry out scientific research on the super special-shaped cone forging in this project.
We independently developed and designed special forging forming tooling and auxiliary tools, and developed the all fiber near net forming limit forging technology for super special-shaped cone-shaped cylinder forgings, which created a number of new technological pioneers, such as the preparation of super large wall thickness special-shaped cylinder reaming blank, the accurate control of super large diameter special-shaped cylinder section tire die forging reaming wall thickness, and the synchronous deformation control at both ends of super thick special-shaped cone forgings.
The successful manufacture of this forging has given China CFHI a market lead in the field of lightweight design and manufacturing of hydrogenation vessels and further led the international heavy Petrochemical vessel manufacturing industry.